You've decided it's time to advertise your beloved Jersey Shore vacation rental but how do you choose where to list your home? Or you've already listed through a third-party listing service and are weary about the amount of money you are spending on commissions and fees every time a renter books through that platform. Wherever you are in the process of listing your vacation rental at the NJ Shore, we have created the ultimate price comparison guide to help you save money when renting your vacation rental.
What does it mean to "book direct"?
First, let's define what it means to list your vacation rental home direct by owner. When choosing to list your vacation rental, you are most likely listing your rental through a vacation rental listing platform that advertises your home as well as takes over your rental business from there, including taking you and your renter's money. You have very little control and are at their mercy for your very own home.
When you list your vacation rental direct, you are still getting the benefits of advertising and securing rentals but with a very different pricing structure for both you and your renters. Most of our renters are exempt from paying the NJ Shore Rental Tax which is 11.625% of the rental rate. Our renters also do not have to pay booking fees. Actually, our renters do not pay ShoreSummerRentals.com a penny.
Booking direct means reserving a stay directly with the owner of the property. The renters can simply give the owner a call (or send a text or email) to secure their booking and communicate rather than battling with a third-party system. This allows the owner and renters to communicate directly without a middleman service overseeing communication and bookings.
Benefits of booking direct include:
Direct communication between owners and your guests without a middleman controlling the conversation and contact information. It's as simple as a call, a text, or an email! This gives owners a personal connection and vetting before deciding to rent to the person that has inquired.
More control over terms and conditions and house rules.
More payment options, flexibility, and control over cancellation policies.
Savings of $3k-30k per year by avoiding commissions and fees charged PER BOOKING on other listing websites like VRBO and AirBNB.

Owner Fees Comparison:
ShoreSummerRentals.com:
When listing your vacation rental directly on ShoreSummerRentals.com, you pay one-time annually depending on the membership that is best for you. Memberships costs are as follows: $349/year for our Silver membership, $399/year for our Gold membership, $499 for our Diamond membership, and $999/year for our Platinum membership. That is it! You will secure unlimited rentals at an incredibly low cost. Compare memberships here.
vs.
VRBO.com:
When listing your vacation rentals through VRBO, owners pay a 5% commission PLUS a 3% service fee for every single booking. The real life below example equates to $662 for a one weekly rental booking and $6,620 for 10 weekly rental bookings. Holy cow!
The graphics below break down an owner price comparison between Shore Summer Rentals and VRBO. This is the same vacation rental home, for the same exact week, listed on both platforms.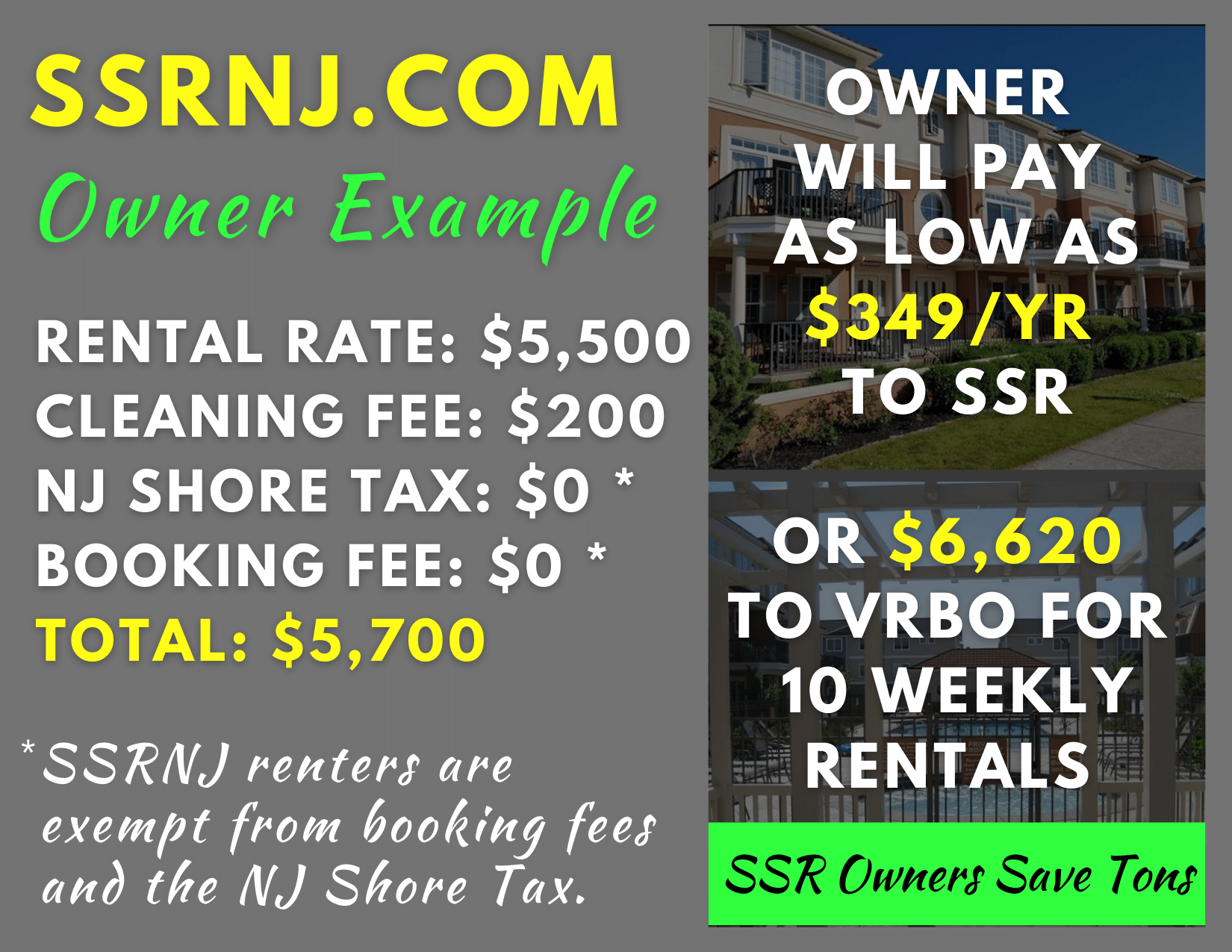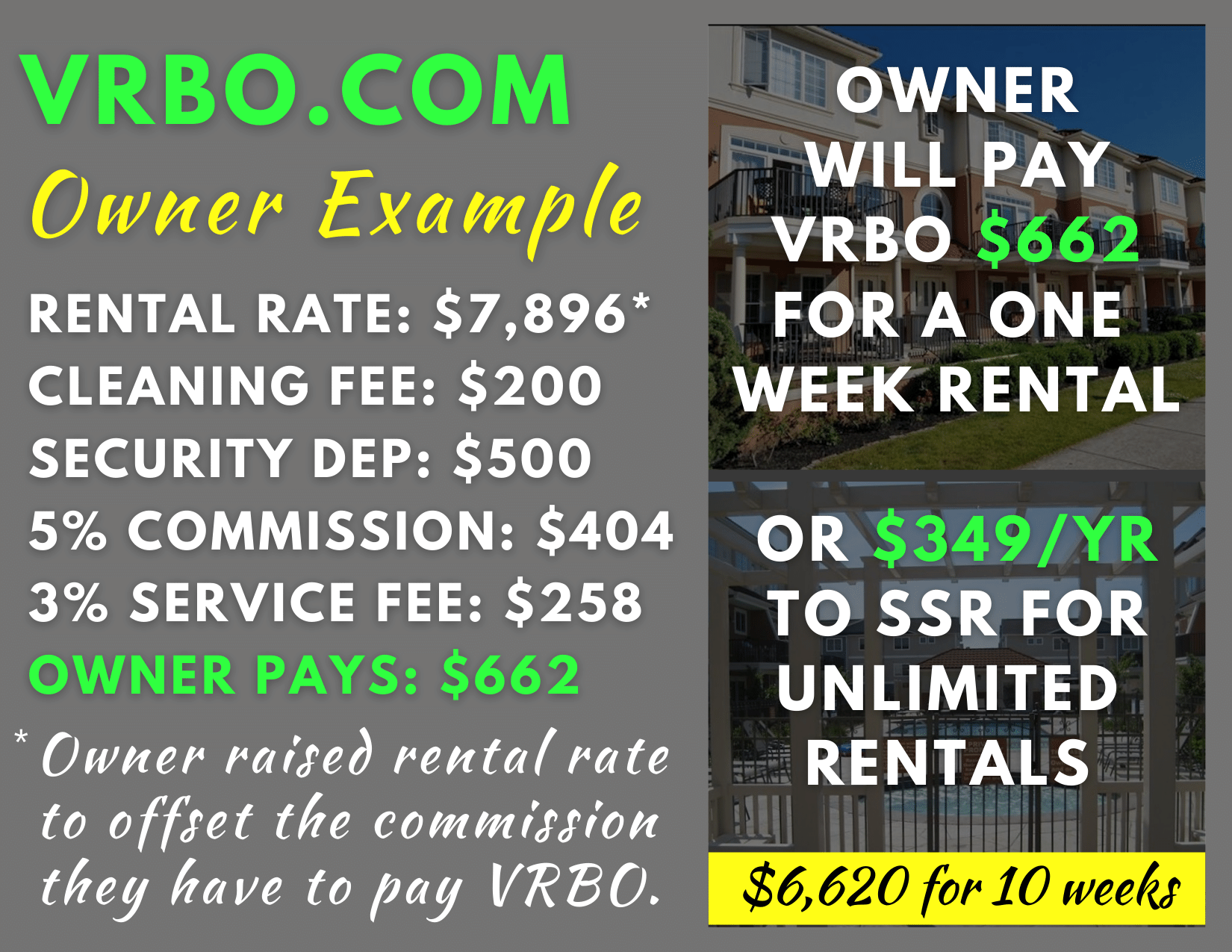 Renter Fees Comparison:
Along with the savings for owners listing direct, renters also save up to 25% by booking direct on ShoreSummerRentals.com. When booking direct, renters avoid paying the NJ Shore tax along with any service or booking fees charged by VRBO and Airbnb. Here's a cost comparison on the same rental we used for the owner comparison above that breaks down renter savings.
The graphics below break down a renter price comparison between Shore Summer Rentals and VRBO. This is the same vacation rental home, for the same exact week, listed on both platforms.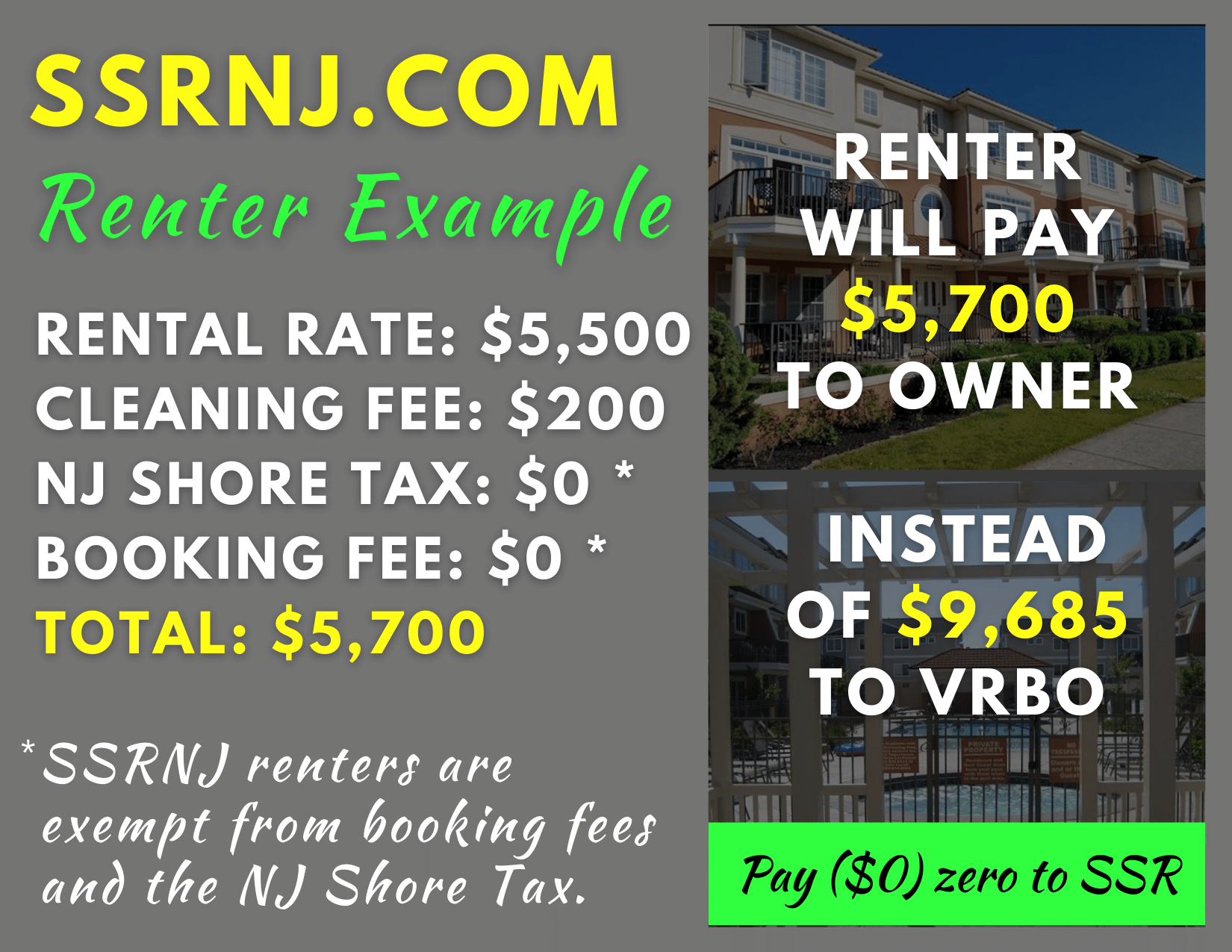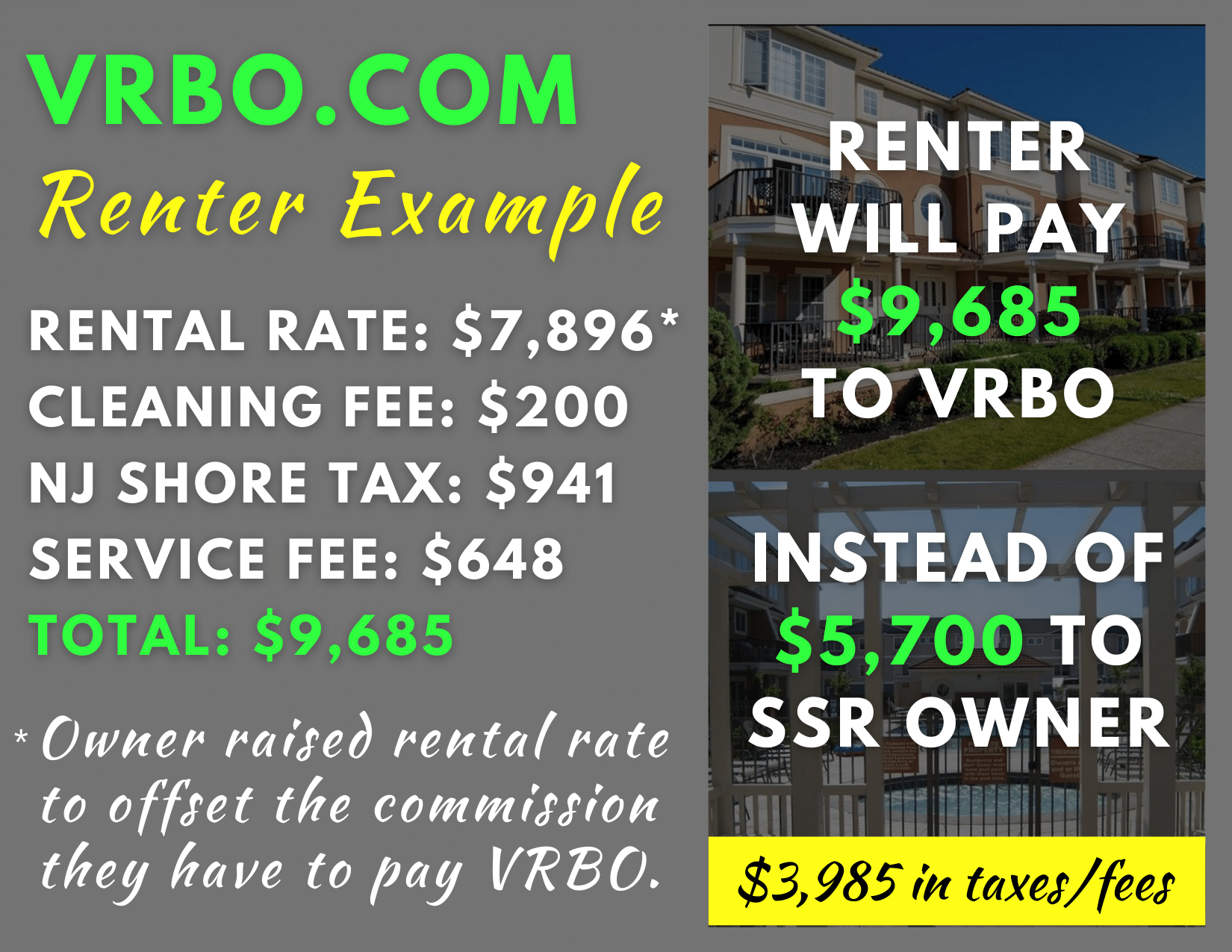 OUR RENTER DEMAND HAS SKYROCKETED
Our renters are educated and know they no longer have to pay outrageous fees to book a vacation rental. The renter demand for inventory requests have skyrocketed in recent years as more as more and more renters are learning about the huge savings of booking direct! Below are several New Jersey Shore towns we are seeing an increased request for more inventory on ShoreSummerRentals.com. If you have a vacation rental not listed with us yet, join us now. You will save you and your renters thousands of dollars per year while booking up quickly!
Lavallette, NJ
Located on the Barnegat Peninsula, Lavallette is a quite beach community removed from the the busier shore areas while still being a close drive to Seaside Heights, Point Pleasant Beach, and Toms River. Renters enjoy the ready access to the ocean beach and the Barnegat Bay shoreline. View other Lavallette NJ vacation rentals and list your vacation rental here!
Ortley Beach, NJ
Less than a square mile, Ortley Beach is another quiet beach town on the Barnegat Peninsula that renters are flocking to for a relaxing vacation away from the hustle and bustle of other Jersey Shore towns. View Ortley Beach rentals and rent out your beach house here.
Sea Isle City, NJ
Located in Historic Cape May County, Sea Isle City is a popular beach destination that offers visitors an array of entertainment options – ranging from wonderful restaurants and nightlife to exciting recreation events and other family attractions. View other Sea Isle City house rentals and learn how to list a vacation rental here!
Avalon, NJ
The chic and charming Borough of Avalon, New Jersey, occupies the northern end of Seven Mile Island. Visitors return to Avalon throughout both the summer and quiet season for peaceful and relaxing vacations. Beautiful beaches and gentle surf, combine with fine shopping, exquisite restaurants and exciting nightclubs for a great vacation escape. Check out vacation rentals in Avalon NJ and rent out your vacation home here!
Stone Harbor, NJ
"The Seashore at its Best", is how the quaint little town of Stone Harbor refers to itself. Nestled midway along the Jersey Cape's 30 miles of breathtaking beach front, Stone Harbor has been attracting visitors to its unique vacation resort for more than 75 years. View homes for rent Stone Harbor NJ and list your Stone Harbor vacation rental here!
Point Pleasant Beach, NJ
For family-friendly beach-side fun, it's hard to beat Point Pleasant Beach. The expansive beach is kept crystal clean, and the Boardwalk is great for the entire family with dozens of rides along with games of chance, some of the most competitive miniature golf at the beach and Jenkinson's Aquarium. View Point Pleasant Beach rentals and find renters for your Point Pleasant Beach rental here!
Belmar, NJ
The coastal community of Belmar, New Jersey, is a jewel of the Jersey Shore. Visitors and residents alike love Belmar for its top-rated beaches and its small-town charm. View other Belmar NJ vacation rentals and rent your home here!
Long Beach Island, NJ
LBI, as Long Beach Island is known in the local lingo, is a beach lover's paradise. Even at the widest point of this 18-mile-long island strewn with small shore towns and long stretches of white sand, you're never more than half a mile from the other side. View Long Beach Island rentals.