If you're looking to book a vacation on the Jersey Shore — or to rent your property — there's no better place to go than Shore Summer Rentals. Why choose us? We're an online marketplace led by people who spent our childhood summers at the Shore, so we know what makes this area so special. That's why we've designed our services to conveniently connect hosts and guests, offering thousands of dollars in savings for everyone.
⛱ List your rental now and save up to $300. Check out our intro offers here.
Through our vacation rental model, guests do not pay booking fees and hosts never pay commissions. What this means is, as a guest, you can find the perfect place in minutes online. And as a host, you can earn unlimited rental income for your property, all for one low yearly price. Can you imagine the cost savings year after year?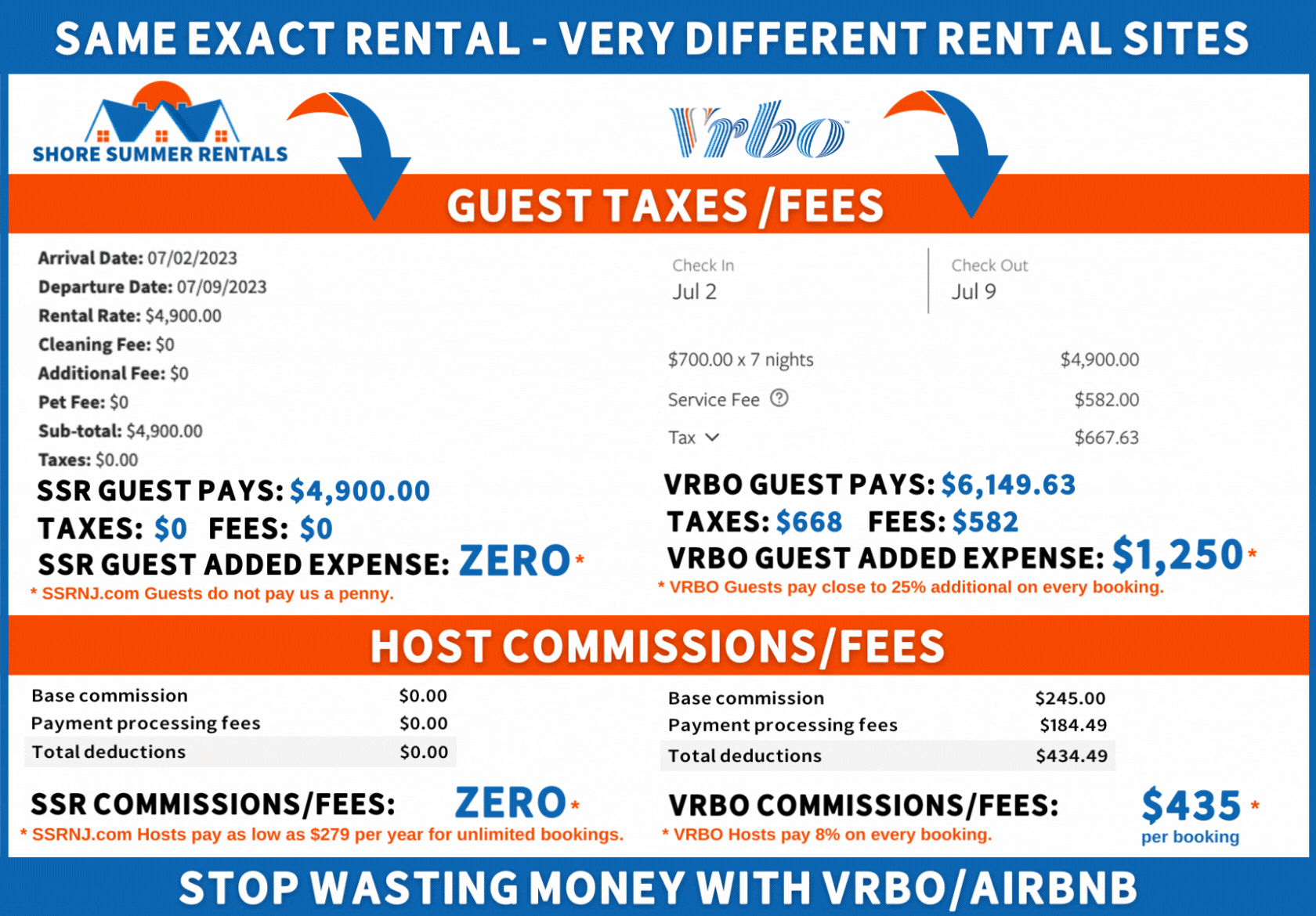 WHY RENT WITH US?
⛱ Most guests DO NOT pay booking fees.
⛱ Most guests DO NOT pay the NJ Sales Tax.
⛱ Most guests DO NOT Pay the NJ Occupancy Tax.
⛱ Shore Summer Rentals has been cutting out the middleman since 2004.
Our website features a great selection of properties, searchable by various filters. Even better, you won't pay any booking fees or any rental tax with us. How much of a difference does this make? For a rental rated at $4,900 a week, that would be $1,292 in savings! Browse over 1,900 NJ Shore vacation rentals here.
On top of that, our guests are also tax-exempt from the New Jersey Shore Tax, as long as the host they book with has fewer than three total rental homes.
Check out a real life comparison of how much our guests save on a one week vacation rental booking here.
WHY LIST YOUR PROPERTY WITH US?
⛱ Our hosts DO NOT pay commissions.
⛱ Our hosts secure unlimited rental income.
⛱ Our hosts enjoy large profit margins.
⛱ We've been cutting out the middleman since 2004.
⛱ List your rental now and save up to $300. Check out our intro offers here.
Even the most beautiful vacation rental won't get booked if no one can find it; we help you connect with guests through our tremendous Google and Facebook presence, other marketing venues and the thousands of dollars per month we spend on advertising to assure tremendous website traffic.
We also offer sample tools such as leases, invoices and inventory lists to aid your renting. Best of all, our hosts save between $3k and $30k plus per year, depending on the weekly rental rate. Where do all these savings come from?
No commissions

No fees

No rental tax if you own fewer than three units (

view details

)

Only one low yearly fee

Our memberships start at just $279. Unlimited rentals for only $279? WOW!

Check out a real life comparison of how much our hosts save on just one booking

here

.

Everything is handled by the property host, resulting in significantly lower costs. Likewise, our hosts have full control of their email leads and entire rental transactions. Hosts can book directly with the guests, so they know who will be staying in their home. Thinking about listing a Jersey Shore vacation rental property but have questions? Schedule a call with Maria.
LET'S GET CONNECTED
At Shore Summer Rentals, we are here to help! We are vacation property hosts and Jersey Shore vacationers just like you, and we understand the challenges of booking and renting. Choose us, and you can have direct access to our company's owners because, to us, our clients are family.
Trust us when we say new sites pop up all the time, promising rentals but not showing up on any paid advertising platforms such as Google. Don't be fooled! We are a company with proven success: We are entering our 20th successful vacation rental season, providing tremendous traffic and income for our hosts. Also, our guests do not pay us a dime. We'll work with you personally and build a lasting relationship, or, if you're hunting for a great getaway location, search our site for the best properties and prices!
Want to learn more? Schedule a call with Maria or get started now.
⛱ List your rental now and save up to $300. Check out our intro offers here.
Please check out our Testimonials from happy hosts and check out our Google Reviews and Facebook Reviews.