When you're looking for a Jersey Shore house rental, the last thing you want to worry about is how much money you're spending on service fees. Unfortunately, many people find themselves paying these fees without even realizing it. In this blog post, we will teach you how to avoid Airbnb and Vrbo service fees so that you can save serious money on your next vacation rental!
The below image is a real illustration of the fee breakout from just a single Vrbo booking. The guest paid a total of $4,725.00. Included in that fee is a $499 service fee! Holy Moley that is a lot of money that could be used for actual vacation fun. Additionally the host paid Vrbo $310.32 in commissions! Vrbo with the win pocketing a cool $809.32 total ?!  Good for them, bad for people saving for their family vacation.  That does't include the extra tax that New Jersey adds on when you book through those platforms. That is another 11.625% to send to NJ, guests are exempt when renting privately through a ShoreSummerRentals.com owner.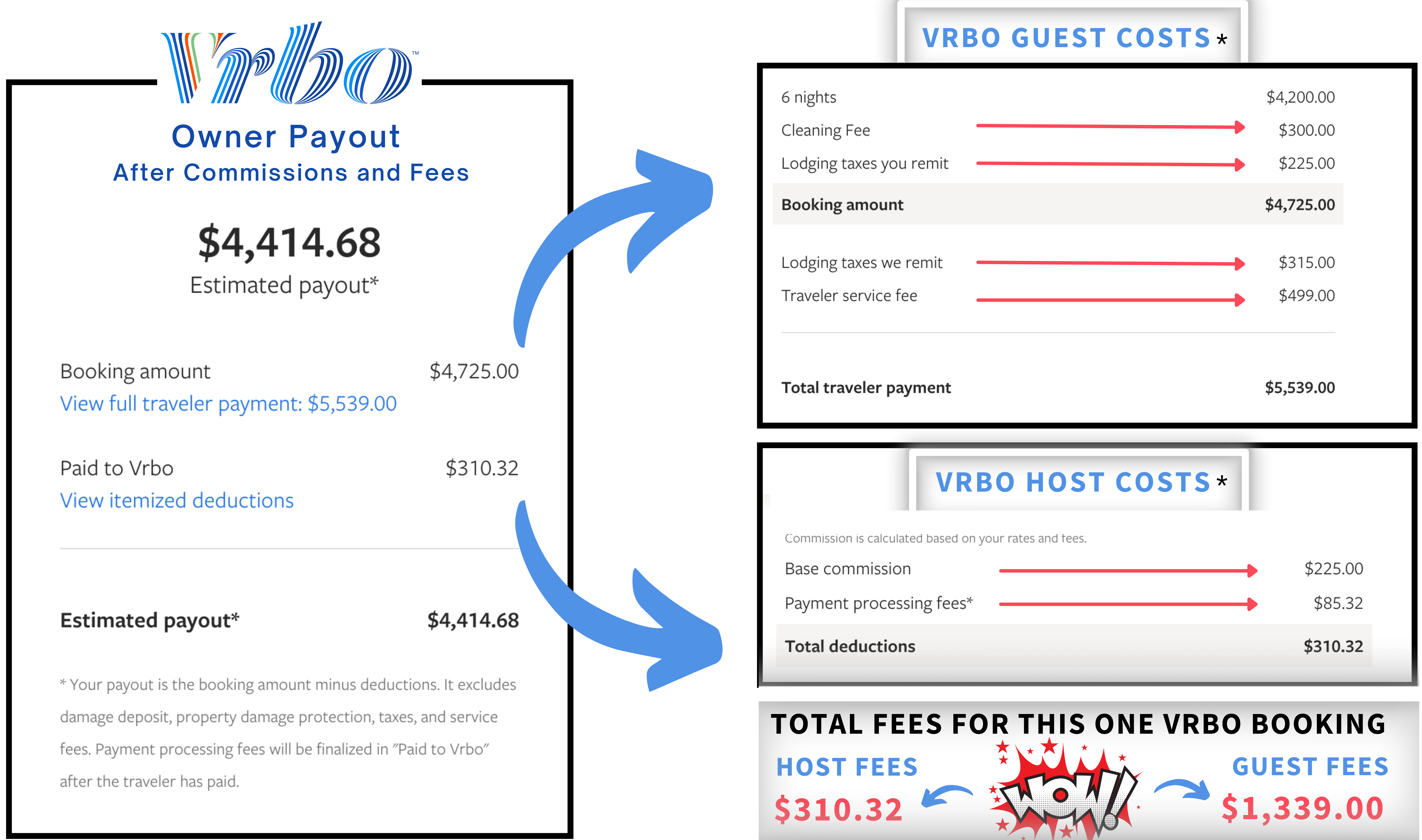 Airbnb and Vrbo Service Fees
In our last post we uncovered the hidden fees that Airbnb and Vrbo charge hosts. As you can see in the above photo, it costs both the guest and the host more to use those platforms.
When you book directly with the property owner on our site, you don't pay any booking fees. You don't have to pay the extra NJ taxes either in most cases. in the above example, the renter would have saved $499 plus the taxes of $540. We often have the same houses, just not the same fees.  ShoreSummerRentals.com does not charge any booking fees. Most of our properties are exempt from paying the NJ Shore Tax. We believe you should use that cash to create lasting family vacation memories.
Serving the Shore Since 2004!
We have been offering vacation rentals by owner at the New Jersey Shore before Airbnb even existed. Renters never pay us fees. Avoid Vrbo service fees. Book your next vacation rental at the Shore direct through us. You save money by dealing directly with the homeowner. Support a local NJ Shore small business. It will benefit your wallet. Start searching for your vacation rental home now! Don't delay.