If you're thinking about booking a vacation rental at a beach in New Jersey but are worried that it may not be in your budget, you've come to the right place. Here at Shore Summer Rentals, we are dedicated to providing both our renters and owners with the best possible deals. You can choose beach vacation rentals in Ocean City, Wildwood, Cape May, and all of your other favorite New Jersey beaches.
Renters
The time to wake up with a sunrise view is not over yet! You know you need one last week at the shore before winter weather comes around. As long as the sun is out, the weather is warm, and the boardwalk is lit, we believe you should be at the beach. We're going to make that more accessible than ever by offering you the lowest prices available on oceanfront rentals — much lower than AIRBNB and VRBO, we are talking hundreds, even thousands of dollars in savings.
As a local business, our focus is people. We are not trying to sell you a shore rental, then bombard you with hidden fees. With our competitors, you'll set a maximum price while browsing, just to see the final bill be twice as large as you had imagined. Those booking fees, service fees, and miscellaneous fees add up pretty quickly. That's not what we do at Shore Summer Rentals. We don't charge any hidden costs, allowing our renters to save an average of $655 for a one-week rental.
How Much Can Shore Summer Rentals RENTERS Save?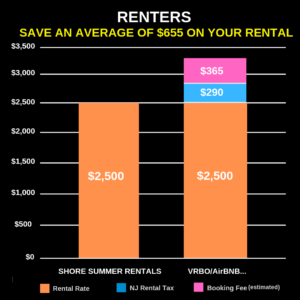 We're always fighting to lower the price of renting a shorefront property. That's why we're happy to announce that the amendment of the Transient Accommodations Tax law in New Jersey lets us do just that. The modification on this bill does not require private rentals, that meet certain criteria, to charge taxes as of August 9, 2019. Our renters save 25% by not having to pay booking fees or the NJ Shore Tax. How's that for savings? Now you can book your Wildwood Crest rental with peace of mind knowing you're making the best choice for your vacation and your wallet.
Owners
Owners, we haven't forgotten about you. We appreciate you helping our renters enjoy a relaxing beach vacation by giving up your summer home. That's why we want to make sure we create mutually beneficial deals.
Renting out an unused home is a great way to make some extra money on the side. But why does the extra money always seem to be less than expected? Our competitors profit from their clients through high commissions and hidden fees, lowering the amount of money owners get to take home at the end of the day. We don't believe in doing that here.
Shore Summer Rentals charges owners a low yearly price and nothing else. Then we hand over full control of email leads and rental transactions to our owners. Our unique business model helps owners save over $3,000 a year. There's a lot you can do with that money and that really adds up year after year.
How Much Can Shore Summer Rentals OWNERS Save?
Don't let the fear of high prices, high taxes, and hidden fees scare you away from enjoying a vacation on the beach, with the sun on your face and your toes in the sand. We have beach vacation rentals available from Long Beach Island to Belmar, and even as far as Delaware. We encourage you to browse our rental properties today!