The end of the 2020 summer season has come way too soon, and it has brought with it an influx of beach house reservations for the next year. Families and friends who were forced to delay or perhaps altogether cancel their summer vacations this year due to the COVID-19 pandemic are already planning ahead for the summer of 2021, and they want to stay close to home.
Since the launch of our new website and over the last few weeks, Shore Summer Rentals has received tremendous amounts of inquiries regarding vacation homes in Delaware Beach and Ocean City, MD. Due to the sheer volume of rental requests, we simply need more homes to accommodate all of our eager renters. That's why we are offering interested parties FREE DIAMOND RENTAL LISTINGS for six months! If you own a beach house in Delaware Beach or Ocean City, MD, and you would like to take us up on this special offer, please don't hesitate to contact us at your earliest convenience!
What is a Diamond Rental Listing?
Our most popular membership option is the Diamond Rental Listing, which provides Delaware, Maryland, and Jersey Shore beach house owners with incredible benefits for a small annual fee. As a Diamond member, owners get to enjoy:
Direct renter access

Rental lead list access

Facebook owner access

Renter email and text notices

Renter contact information

Renter reviews

Free rental sign

Rental rate section

Interactive Google maps

Calendar booking with iCal 

Up to 32 uploaded property photos
Most importantly, Diamond members can receive up to 125% more inquiries than our basic membership.
The best part is that all of this and more can be yours for FREE for six months. There is no obligation and no strings attached. If you like the results and you would like to extend your membership after the six months expire, we will offer you a 50% discount for any membership level you choose. 
Why Choose Shore Summer Rentals?
Because your success is our top priority! Shore Summer Rentals is and has always been dedicated to providing fair prices to renters and affordable membership options to owners. We never want you to worry about spending money on unnecessary fees. That's why everything we offer comes with a "No Hidden Fee" guarantee. It's also why we are one of the most popular vacation rental platforms in the Jersey Shore, plus parts of Delaware and Maryland. If you don't believe us, read these testimonials from satisfied Shore Summer Rentals owners. 
Look at how much you can earn on your New Jersey vacation rental with Shore Summer Rentals versus sites like AirBnB and VRBO.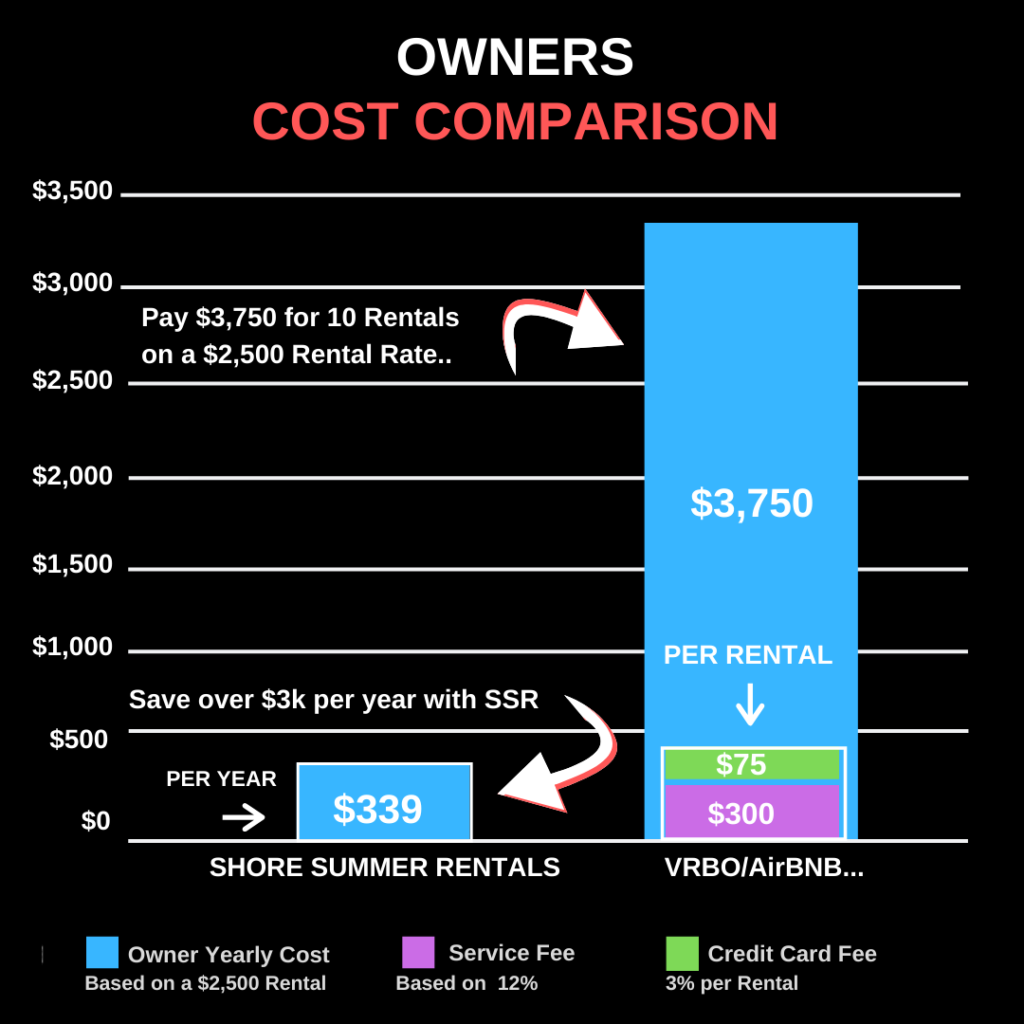 Soon, you may enjoy greater earnings than ever before! As we continue expanding and providing both renters and owners for an affordable vacation home rental platform, Shore Summer Rentals is branching out to bring you two new sites: SSRDE.com, specifically dedicated to Delaware beaches, and SSROCMD.com, specifically dedicated to Ocean City, MD beaches. Both will be listed on ShoreSummerRentals.com as well.
Are You Ready to Take Advantage of This Special Offer?
We're ready to help you! Simply click here to learn more and list your rental. 
That's it! There's no obligation… no strings attached… just a sweet little treat for helping us add to our inventory.