We now have a Welcome Guide template that owners can customize for their guests. Our template is fully editable and once complete, can be downloaded to a PDF document. I email the PDF guide to my guests a week or so before their arrival. I also print it out, put in a 1/2" binder and leave in my rental for my guests to access while on vacation.
>> BUY WELCOME GUIDE

Instructions for Active members to purchase the Welcome Guide are below:
1. Login to your account.
2. Click on "Purchase or Renew Add-Ons".
3. Check the box to the left of Welcome Guide
4. Click "Proceed to Check Out" button at bottom of page.
5. Make payment.
6. The editable template link will be emailed in a separate email after purchase.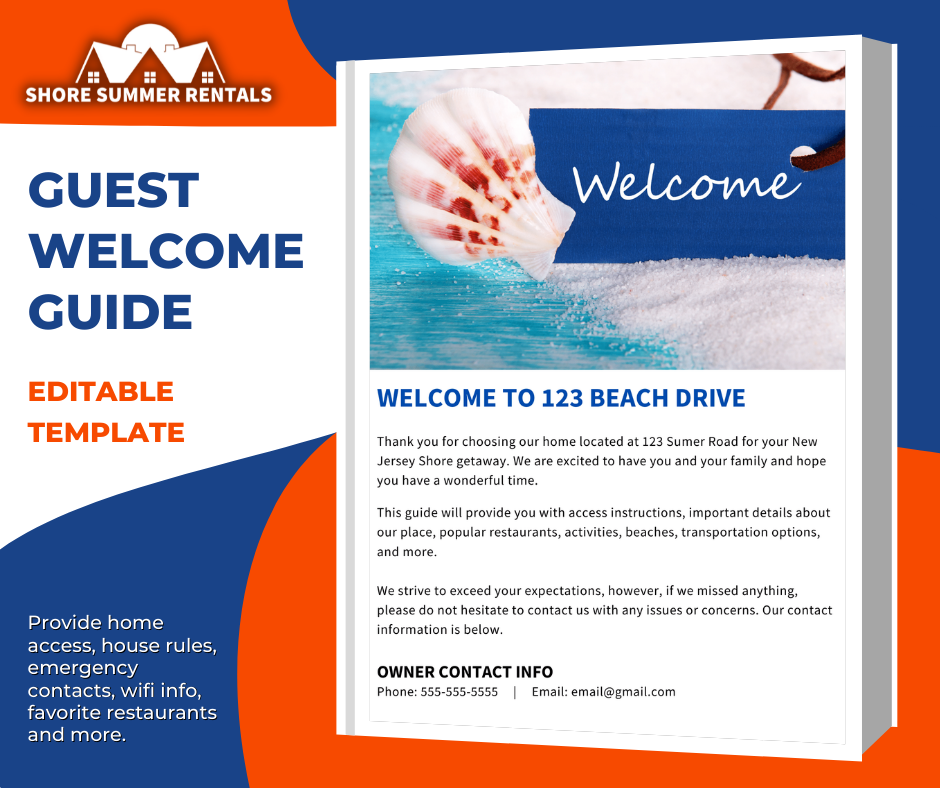 The sections in our guide include:
- Welcome Introduction Page
- Access Instructions
- Emergency Information
- House Rules
- Miscellaneous
- Beach And Sand
- Popular Food & Drink
- Dessert
- Things To Do
- Groceries
- Shopping
- Transportation And Parking
- Other Helpful Information
- Thank You Page

Our Welcome Guide template is included with our Platinum Membership or can be purchased by active owners as an Add-On for $99. Be sure to include your contact information in the guide as well as your Shore Summer Rentals link so they can book direct with you next time if they have not done so this year.
If you already have a Platinum Membership and would like a link to the Guide, please contact us.